Top-Rated Water Slide Rentals in San Jose, CA: Make Your Event a Splash!
Planning a memorable party or event in San Jose, CA? Look no further than Funjump408, your go-to source for water slide rentals, bounce house rentals, and much more! Our fantastic selection and unbeatable customer service make us the best choice for all your party rental needs in San Jose and surrounding areas like Los Gatos, Santa Clara, Palo Alto, Gilroy, Cupertino, Campbell, Saratoga, Los Altos, and even Fremont and Milpitas.
Imagine the excitement on your child's face when they see one of our thrilling water slides at their birthday party. Whether it's a backyard gathering in Willow Glen, a school event at Lincoln High School, or a church fundraiser at the Cathedral Basilica of St. Joseph, our water slide rentals are guaranteed to be a hit with kids and adults alike. With a variety of sizes and themes, we have something for everyone, from compact slides for smaller spaces to massive, adrenaline-pumping options for the most adventurous guests.
At Funjump408, we take care of everything from delivery and setup to teardown, so you can focus on enjoying your event. Our experienced team is dedicated to ensuring the safety and satisfaction of our customers, which is why we only use top-quality equipment and maintain a rigorous inspection process. In addition to water slides, we offer a wide range of party rentals, including bounce houses, obstacle courses, tents, tables, and chairs. Need some extra entertainment for your event? We also have cotton candy machines, popcorn machines, and carnival games to make your party an unforgettable experience.
Our service area extends to communities such as Los Gatos, Santa Clara, Cupertino, Campbell, Saratoga, Los Altos, Palo Alto, and many more, making it easy for you to plan your next event, no matter where you live. From birthday parties and school events to fundraisers and family gatherings, our versatile selection of water slide rentals, jumper rentals, and party equipment ensures that we have the perfect addition to make your event a success.
Choose Funjump408 for your next event in San Jose, CA, and see why customers throughout the area trust us for all their party rental needs. For more information on our water slide rentals, bounce houses, and other party equipment, give us a call or visit our website to check availability and book your rentals today. Let Funjump408 bring the fun to your event, and make it an occasion to remember for years to come!
Three Great Occasions that would be Great for Renting a Water Slide in San Jose, CA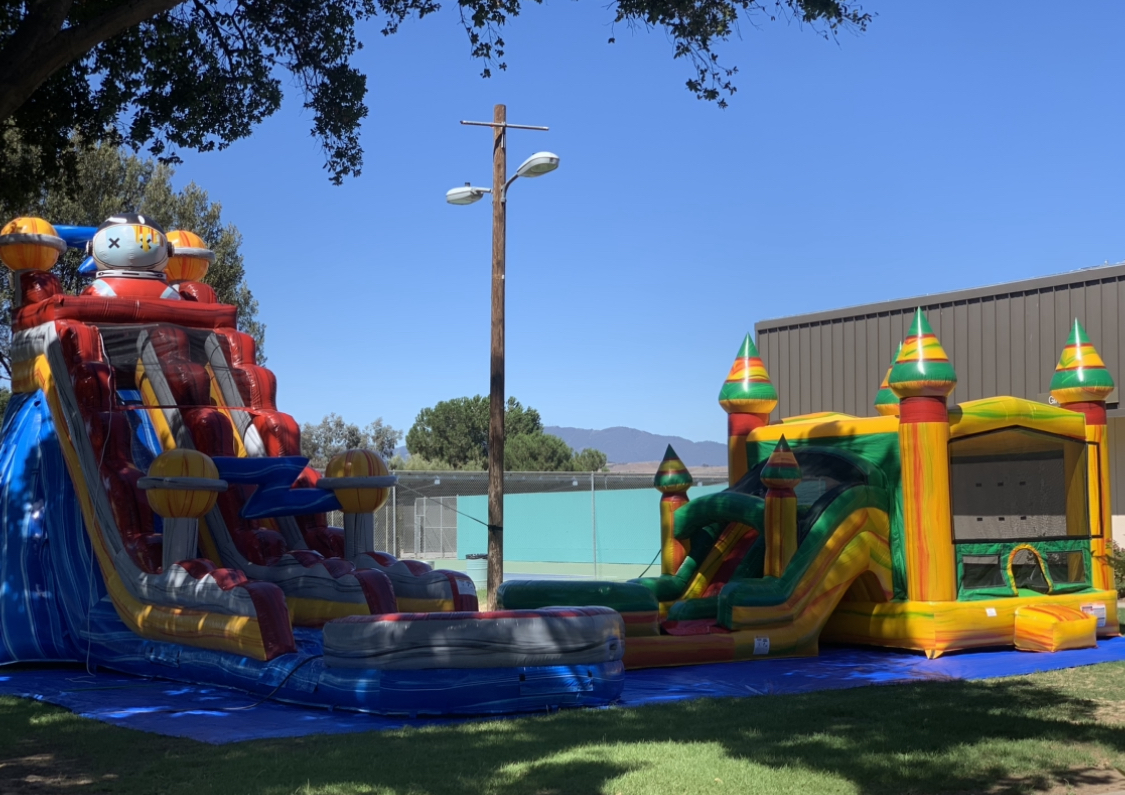 Birthday Parties
A water slide rental from Funjump408 is the perfect addition to any child's summer birthday party in San Jose, CA, or nearby areas like Los Gatos or Santa Clara. Imagine the joy on your little one's face as they and their friends splash around in the cool, refreshing water on a hot, sunny day. Our inflatable water slides transform your backyard into an ocean-inspired oasis, complete with waves and vibrant blue colors. With a variety of bounce houses and jumper rentals available, you can create a wet and wild outdoor playground that kids will love. Add in our popcorn machines and fun games for a complete party experience that guarantees success. Make your child's birthday party unforgettable with a Funjump408 water slide rental!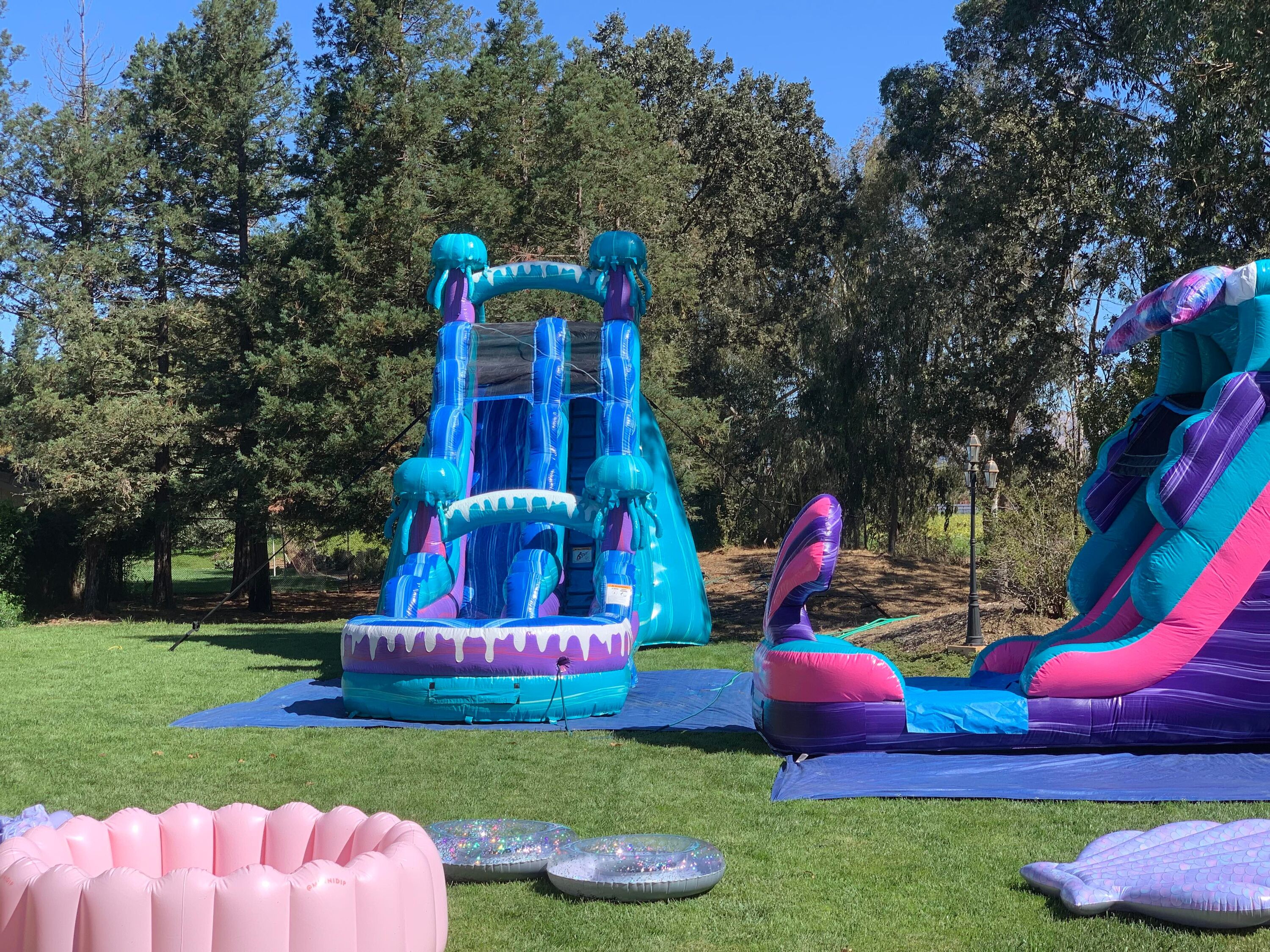 School Events
As the summer heat arrives, schools in San Jose, CA, and surrounding areas like Palo Alto and Cupertino, can take advantage of Funjump408's water slide rentals to create unique, exciting events for students. Perfect for end-of-year celebrations or fundraising events, our water slides and inflatables will keep kids cool and entertained. Transform your school's outdoor space into a fun-filled water park, complete with the exhilarating rush of sliding down our slides and the soothing sensation of swimming in the pool below. Complement the excitement with our selection of bounce houses, games, and party rentals to ensure a successful, unforgettable event that both students and staff will love.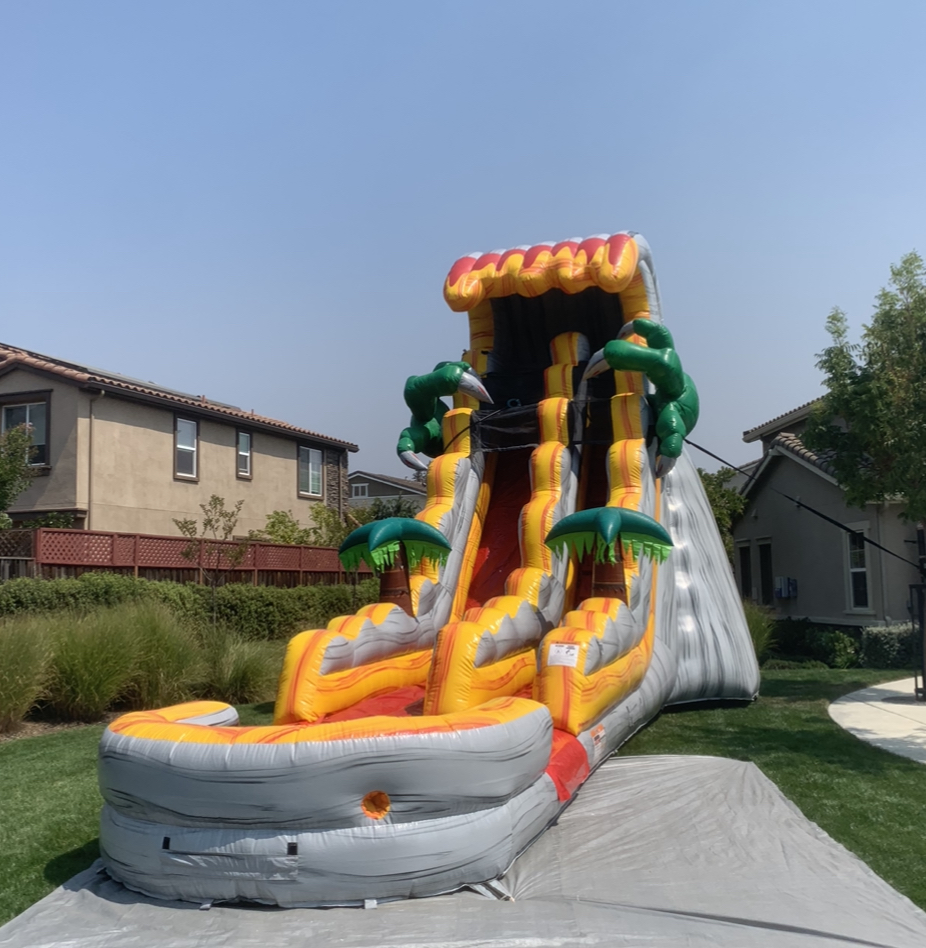 Community Fun
Bring your San Jose, CA community together with a refreshing outdoor event featuring Funjump408's water slide rentals. Ideal for neighborhood gatherings or community celebrations in areas like Campbell or Los Gatos, our water slides provide a fun and exciting way for kids and adults alike to stay cool in the summer heat. Dive into the waves and enjoy a poolside experience in your own backyard, creating a welcoming atmosphere that encourages connection and camaraderie among neighbors. With our extensive range of inflatables, bounce houses, and jumper rentals, we have everything you need to make your community event a smashing success. Add a touch of excitement with our popcorn machines and games, creating a memorable day for all involved.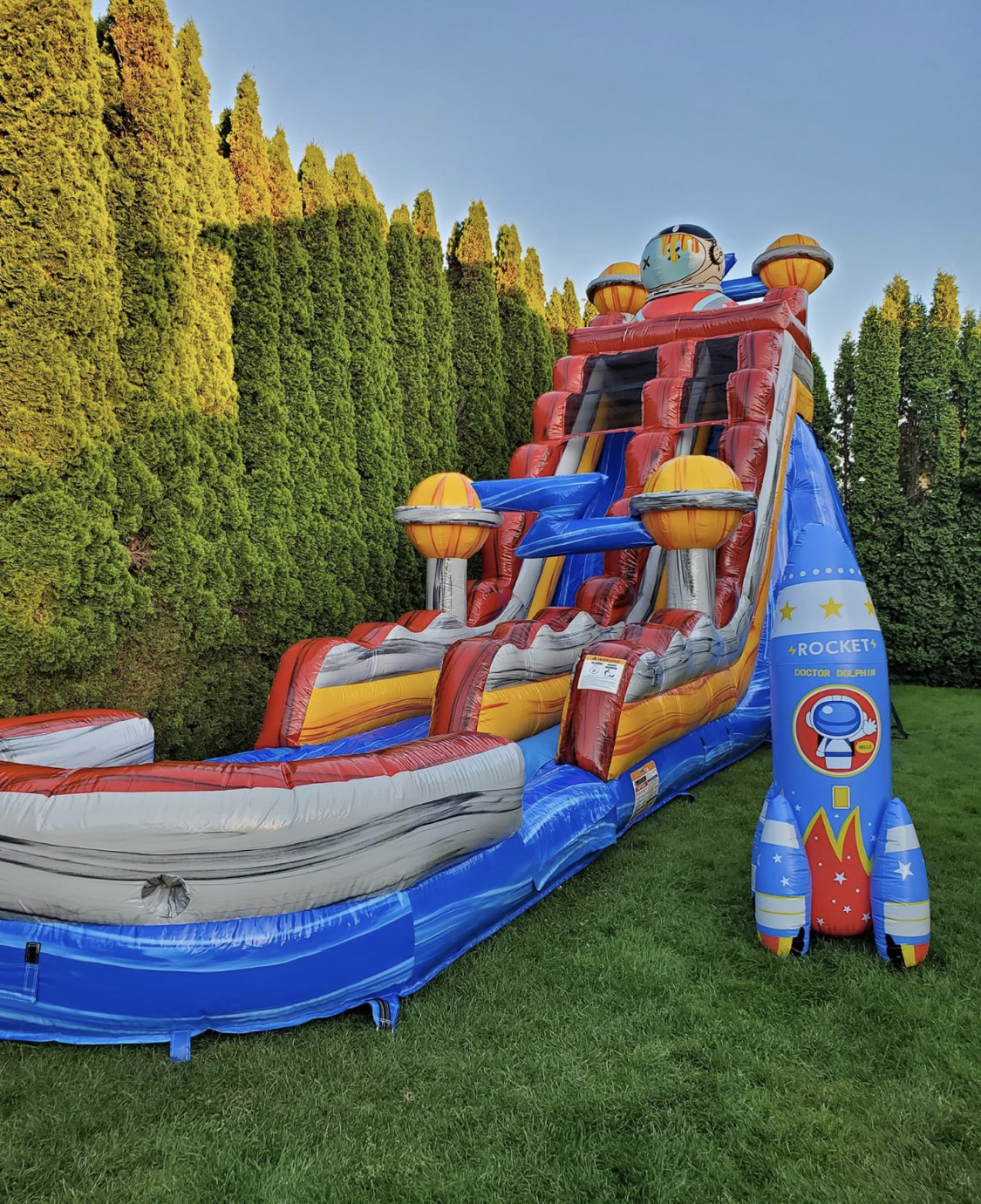 Why Choose Funjump408 for Your Water Slide Rentals in San Jose, CA?
Funjump408 is the premier choice for water slide rentals in San Jose, CA, and the surrounding Bay area. We take pride in offering exceptional service to the residents of our city, including popular neighborhoods like Cambrian Park, Evergreen, and Silver Creek. Our mission is to create unforgettable memories for children and families with our exciting, high-quality inflatable rentals.
When the summer heat arrives, there's no better way to keep cool and have a blast than by bringing the excitement of a water park to your backyard. With Funjump408's incredible selection of water slides, your guests will be treated to a wet and wild adventure that's perfect for beating the hot, sunny weather. Our waterslides are designed to provide hours of refreshing fun, whether you're hosting a birthday party, school event at Pioneer High School, or a community gathering.
We are a local business with strong ties to San Jose, which is why we prioritize the needs of our customers and their communities. Our professional team is committed to delivering top-notch customer service, ensuring that your water slide rental experience is smooth and hassle-free. We take care of all the details, from delivery and setup to teardown, allowing you to focus on enjoying your outdoor event.
Funjump408 is more than just a water slide rental company; we are a one-stop-shop for all your party needs. In addition to our thrilling inflatable waterslides, we offer jumper rentals, chair rentals, and a variety of other party essentials, making us the perfect choice for any occasion.
When you rent water slides from Funjump408, you're not only choosing the best inflatable rentals in San Jose, but you're also supporting a local business that cares about your satisfaction and the success of your event. Our commitment to quality and service has made us San Jose's go-to source for all things party-related.
So, why wait? Bring the excitement of the ocean's blue waves to your next event with Funjump408's water slide rentals in San Jose, CA. Make your summer event unforgettable and give your guests a refreshing experience they'll cherish for years to come!