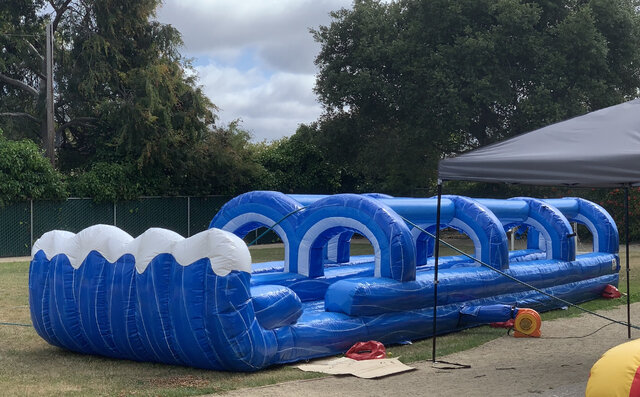 Slip & Slide Dual Lane

L 37ft x W 10ft x H 6ft


Splash Pool 💦
Setup Area: 10W-37L-6H
Age Group: 3+
Attendants: ADULT SUPERVISION REQUIRED AT ALL TIMES




Introducing the Slip & Slide Dual Lane, the ultimate summer water slide experience for both kids and adults! Get ready to make a splash and beat the heat with this thrilling inflatable slide.
Designed with two side-by-side lanes, this slip and slide allows you to challenge your friends and family to a race to the finish line. Who will be crowned the slip and slide champion? Find out as you glide down the slippery surface and feel the rush of adrenaline.
It features a long and wide sliding area, providing ample space for multiple participants to slide and have a blast together. The dual lanes are perfect for friendly competitions, birthday parties, or any outdoor gathering.
Setting up the Slip & Slide Dual Lane is a breeze. Simply inflate the slide, connect it to a water source, and watch as the water sprays from the built-in sprinklers, creating a slippery and exciting surface. The continuous flow of water ensures a smooth and fast ride, guaranteeing hours of endless fun.
This water slide is suitable for all ages, making it a perfect addition to your backyard, summer camp, or community event. It promotes active play, encourages friendly competition, and provides a refreshing way to cool down during hot summer days.
So, why wait? Get your Slip & Slide Dual Lane today and create unforgettable memories with your loved ones. Embrace the thrill, speed, and laughter as you slide your way to summer fun!