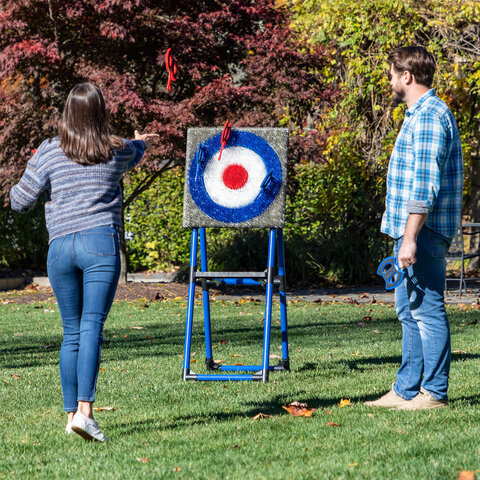 Axe 🪓 Throwing
Introducing our thrilling Axe Throw Game for everyone! Get ready to unleash your inner lumberjack and experience the excitement of axe throwing right in your own backyard or event.
Designed to provide endless fun and entertainment, our Axe Throw Game is perfect for players of all ages and skill levels. Whether you're a seasoned pro or a beginner, this game will challenge your accuracy and precision, keeping you engaged for hours on end.
Crafted with premium materials, our Axe Throw Game features a sturdy pvc target board with multiple scoring zones, allowing you to earn points based on your aim and skill. The board is designed to withstand the impact of the axe, ensuring durability and longevity.
Safety is our top priority, so rest assured that our Axe Throw Game comes with safety guidelines and precautions to ensure a secure and enjoyable experience for everyone involved. We provide specially designed axes that are lightweight and easy to handle, minimizing the risk of accidents.Organize friendly competitions with family and friends, or host your own axe throwing tournament to test your skills against others. This game is perfect for parties, gatherings, or simply for a fun-filled weekend activity.
Why settle for ordinary games when you can bring the excitement of axe throwing to your own space? Unleash your competitive spirit, improve your aim, and create unforgettable memories with our Axe Throw Game. Get yours today and experience the thrill of hitting the bullseye.